Assassin's Creed wouldn't be as amazing as it is without its fans. We'd like to give more visibility to some dedicated community members, to share their passion and hard work. To open our new series of community spotlights, let me present
Cédric
, a French fan who has been building a large collection of Assassin's Creed merchandise for over six years.
The latest addition to his collection includes Assassin's Creed movie products! The Assassin's Creed franchise is famous for its prolific by-product collections, especially items from the Assassin's Creed movie, which are a delight to our worldwide aficionados. From figurines to books, collectibles, and clothing, the selection is wide for every collector.
Always keen on growing his already impressive collection, Cédric didn't hesitate to order the beautiful objects created by
UbiCollectibles
. He's now the proud owner of the 2,437th chest (of 2,700) and its Apple of Eden, as well as the Aguilar and Maria diorama and the hidden blade gauntlets. He also acquired a picture signed by the main actors including a certificate of authenticity!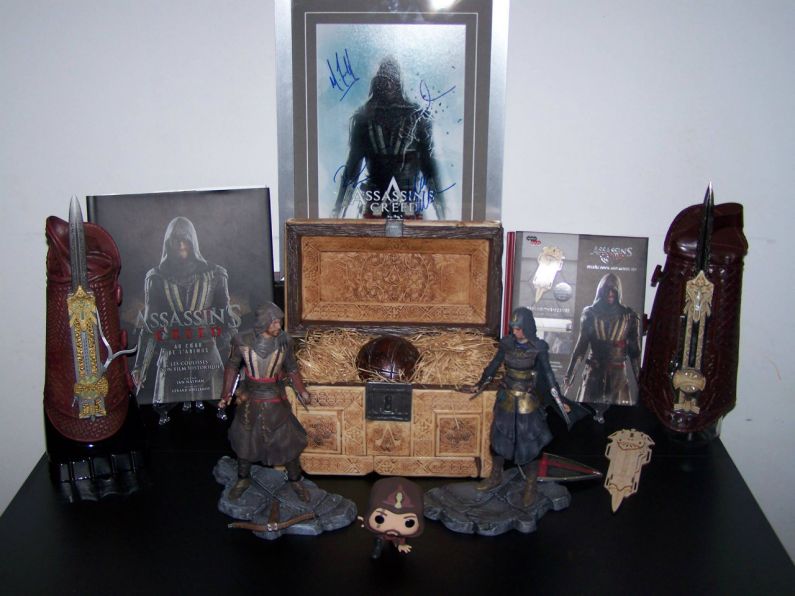 I had the chance to chat with him and discuss more in detail about his passion as a collector.
You started collecting Assassin's Creed merchandise over six years ago. What inspired you to build such a collection?
I am not a hard-core gamer in general, but when I discovered Assassin's Creed II, I just couldn't stop. The game was beautiful and detailed. I love the feeling of discovering cities as I imagine they were in the past, discovering all the historical details, the costumes, and the atmosphere. I started collecting items related to Assassin's Creed because I was passionate about the games. Each collectible is more beautiful than the last, the level of detail is amazing, and I'm very proud of every single item in my collection. Every time I receive a new one, I'm like a child opening a Christmas present. It's an exhilarating feeling!
How many items do you own in total?
I couldn't even say! A lot! Definitely over 100 overall, including figurines, toys, Pop! figures, books, jewelry, swag, press kits, collector's editions, promotional items, and more.
What is your favorite item?
I think my favorites are my Ezio and Edward Limited Developers Edition busts. They are rare, and I feel very lucky to have them. I also have a figurine of Altaïr crouching, which was a real challenge to find!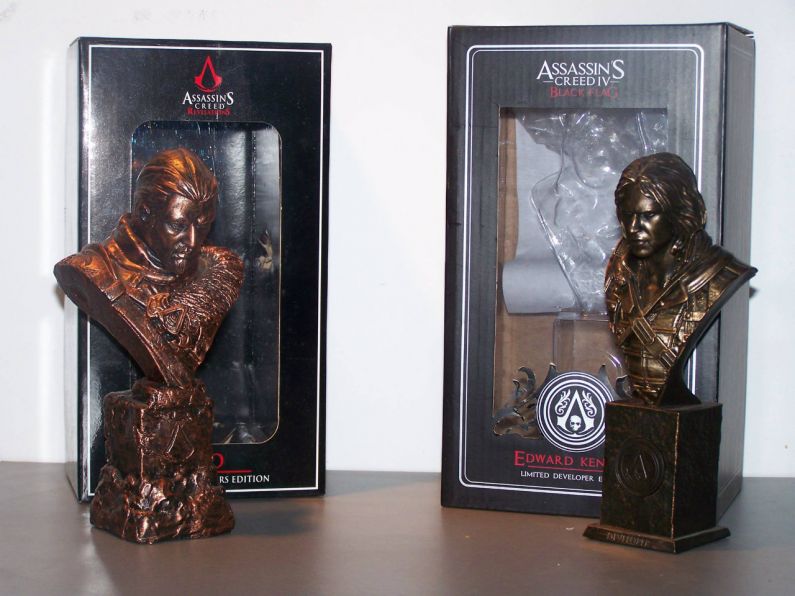 What would be your dream item to add to your collection?
That's easy to answer! It would be the Big Ben retail kit for Assassin's Creed Syndicate. It's simply beautiful, but very rare. Press kits are made for promotional purposes and are sent to specific people, so there are very few of them on the market. If an owner decides to sell it, prices can be very high. I have the press kits for Assassin's Creed II, Assassin's Creed Brotherhood, Assassin's Creed Revelations, and Assassin's Creed III, but haven't acquired the others…yet!
If you'd like to discover the extent of Cédric's collection, don't hesitate to check his
Facebook
page!