The Assassin's Creed community is known for its legendary cosplayers who take the intricate designs of our favorite Assassins and translate them to fantastic costumes.
For this Community Spotlight, we wanted to sit down with The Wicked Tailor, one of our favorite Assassin's Creed cosplayers, to get a better idea of how he got into cosplay and his techniques in tackling our latest Assassin protagonist from the
Assassin's Creed
movie, Aguilar de Nerha.
How did you start getting interested in cosplay?
I got into costuming and prop building in the mid-2000s. At first, it was making over-the-top Halloween costumes.
Back then most of them were pieced together from store-bought materials, which I would heavily modify into something called "closet costumes" today.
Was there something specific that inspired you to keep creating?
My grandmother was a seamstress and worked 40 years of her life in a garment factory. She taught me the basics of how to sew and it is something that I have always carried with me, but was not fully utilized at that time.
In 2010 she passed away and I decided as a tribute to her, I would attempt my first-ever costume entirely made from scratch. Once it was completed, I entered my first competitive costume contest at Anime Weekend Atlanta in 2010 and won Best in Show Novice.
Over the past seven years, I have won many awards at various costume contests around the country. I have also guested as well as judged costume contests at many of the conventions I previously won awards at.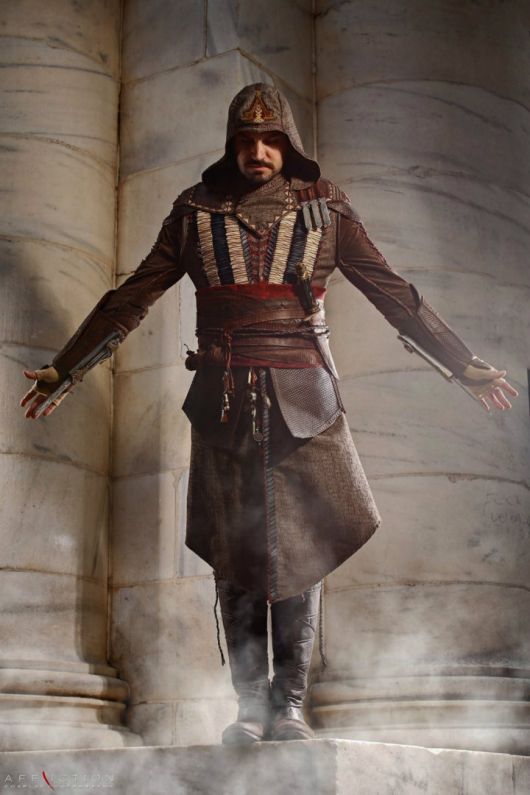 Can you walk us through how you created your Aguilar cosplay?
This costume was by far the most complex and time consuming I have ever done. It was also the most expensive in materials cost and utilized
all
of my combined seven years of costuming experience in order to pull it off.
I was contacted last May by Ubisoft and was asked if I would be interested in making a reproduction of the costume worn by Michael Fassbender in the then upcoming
Assassins Creed
movie.
Originally, I was told that they would share my progress on their official Facebook page as well as have a possible use for me at some conventions that Ubisoft would be represented at later in the year. At first, I was reluctant because I knew how much time and money it would take in order to put together a good screen-accurate reproduction…
I was contacted by
Tandy Leather
who took notice of my early project postings.
They offered to provide everything I needed when it came to the leather and accessories, which included raw leather hide, stamps, dyes, etc. This was about ¾ of the total materials cost of the costume, and what remained I was able to purchase on my own.
In total, the costume took 13 weeks to complete with over 500 hours invested. All of the fabrics are natural fibers such as cotton, linen, silk, and canvas.
What sort of reference materials do you use?
I tried to be as accurate to the original as possible, going as far as to hand–screen print the inside liner fabric because I wasn't able to find something with a close-enough pattern.
I was given a general public release 360-degree photo of the costume by Ubisoft. It would take several friends sending me high-resolution photos of the actual movie costumes displayed at conventions in LA and Europe to give me enough reference material to make this costume accurately.
All of the leather used (thanks to Tandy) is 100% genuine with over 90% of the stamps used in leather embossing being the exact same ones used on the movie costume.
A few of the leather stamps were very old and almost impossible to find, so those had to be 3D printed. There are over 3500 beads, which are not only the same type used on the movie costume, but many of the buffalo horn and camel bone pipe beads are actually from the same supplier.
What are you most proud of in your Aguilar cosplay?
This costume was the most difficult and frustrating I have ever undertaken. There were many times during its construction that I wanted to quit, but continued to press on.
Fortunately, I kept at it and now I have something wonderful to show for my seven years of competitive costuming.
This is the
best
thing I have ever produced costuming-wise and something I will be proud of for years to come.
I first debuted it at Dragon Con 2016 this past August, where I was a Guest/Attending Professional. I received a great deal of positive feedback among those who recognized it.
I entered it into the Friday Night Costuming Contest, which is one of the most difficult and hardest-judged costume contests in the country.
The costume showed incredibly well, and the judges liked it so much that they gave me the highest award possible, Overall Best in Show.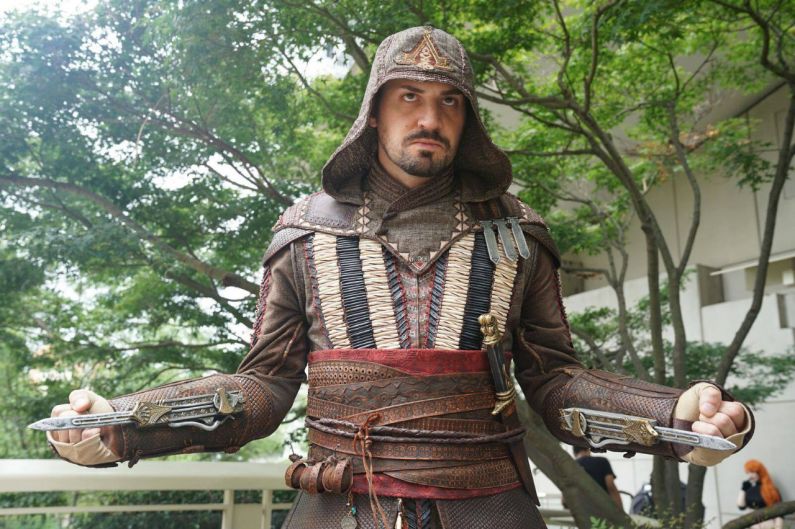 You can check out the rest of The Wicked Tailor's cosplay on his
official Facebook page
for more amazing Assassin's Creed designs and his photo album featuring the
entire construction process
. Be sure to check out our
cosplay references for Aguilar's robes
if you're inspired to tackle this fifteenth-century Spanish Assassin's complex design.